Scylla Docs Contributor's Handbook
If you are reading this guide because you have decided to contribute to Scylla Documentation, thank you! We appreciate your contribution and hope that this handbook will answer any questions you may have.
The purpose of this handbook is to explain how to contribute new content to Scylla Docs either as a new topic or by editing an existing topic.
If you feel something is missing from this document, do not hesitate to let us know. You can use the Feedback button at the bottom to open an issue.
Scylla Docs contains all of the user documentation for installing, maintaining, administering, and developing applications for the Scylla Database. Each project in the ScyllaDB organization is hosted on GitHub. For most of the projects, there is a dedicated docs folder where all of the documentation for that project is stored. All projects have a file called README. Consult the README file for more specific information on any individual project.
Documentation is written primarily for developers and database administrators. All documentation is saved and tracked on GitHub. We have created a Style Guide that breaks down the writing rules. Our documentation has an optional Vale linter which can be used to check that your writing conforms to the Scylla Style.
Any documentation contribution, no matter how small, is made as a pull request (PR) on GitHub. You can use a client, the Web UI, or the command line to manage your PRs.
As all content is submitted as a pull request the following diagram can be used to represent the workflow.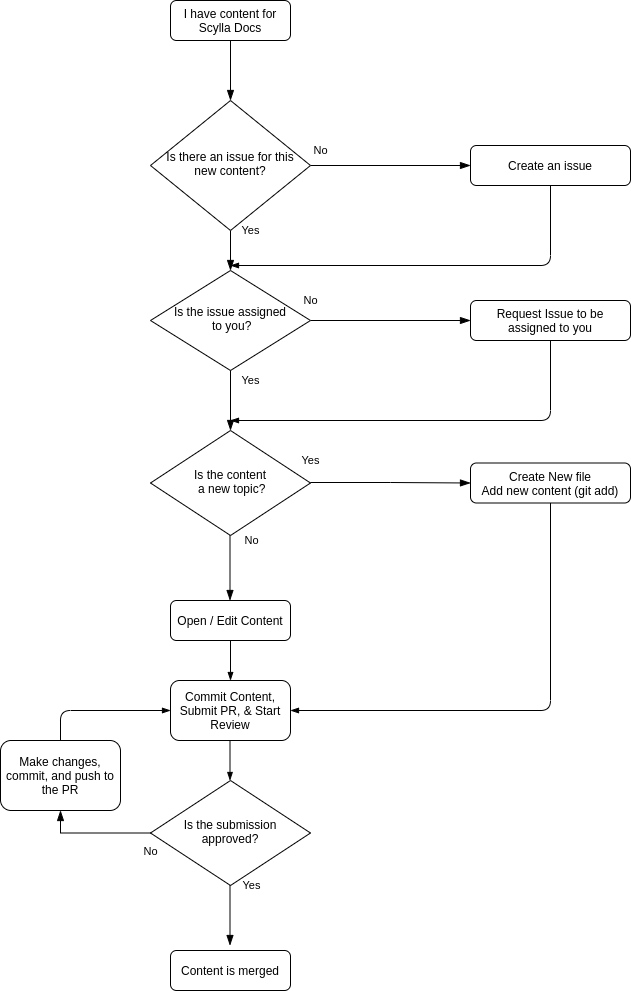 The Scylla Users Slack has a scylla-docs channel. There you will find the docs team and other enthusiasts about docs. This channel is public.
The following resources can be used to help you create content for Scylla:
How to contribute to Scylla code